DEVELOPMENT OF ORBITAL IMPLANT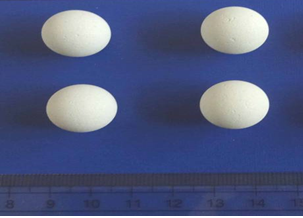 The project is aimed at development of hydroxyapatite based porous integrated orbital implants of different design and size for direct implantation eliminating tissue grafting for fixation to provide a satisfactory functional and cosmetic rehabilitation of the anophthalmic patients. This new development is expected to revolutionise the treatment procedure after enucleation surgery and rehabilitation of the anophthalmic patients. Those bioactive intraorbital implants will provide natural look of the eye along with a degree of mobility, which mimics that of the fellow eye in all directions with minimum socket complications. This will definitely reduce post-encleation socket syndrome, which is generally associated with a retraction or ptosis of the upper eyelid and an enophthalmic appearance. CGCRI, Calcutta has conducted detailed post operative studies to evaluate the degree of volume replacement, implant and associated prosthesis mobility, secondary eyelid and socket problems, patient satisfaction, the need for further surgery and post operative complications.
The product named 'CeraEye' is presently being marketed by IFGL Bio Ceramics Ltd, Kolkata.
Address of Manufacturer :

IFGL Bioceramaics Ltd
3, Netaji Subhas Road
Kolkata-700001
Phone : 33-22482411 Extn : 114-161
Fax : 33-22430886
Email : ifglbioho@bajoria.in, ifglbiomktg@bajoria.in
Website : www.ifglbiocermics.com