TITANIUM BONE & DENTAL IMPLANT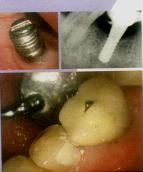 The project has been taken up by INMAS, DMRL and NFTDC. Titanium Bone Plates & Screws have been developed and clinically assessed in 205 cases (335 titanium plates, 1310 screws) at 7 centres including Services & civilian institutions.
Facial injuries sustained by Defence Personnel during "OPVIJAY" have been rehabilitated by these devices at Srinagar, Udhampur & Delhi. So far 80 kits of bone plates & screws @ 11,000/- per kit have been marketed by NFTDC, Hyderabad at 1/5th of the imported cost. Further, ARMY is considering to procure the plates and screws developed by SBMT through Armed Forces medical Stores Depot to manage causalities among serving soldiers.
Similarly, titanium dental implants have been developed. Multicentric clinical trials of indigenous titanium endosteal dental implants have been completed. Cases are being followed up for over 4 years. The suitable surgical kit comprising of twist drill, depth gauge, bone tap, implant inserter, implant analogue, screw inserter and titanium tweezer have been developed for implant surgical procedures.
The Dental Implant surgical kit is currently being marketed by IDIDENT Medical Devices, New Delhi.
Address of Manufacturer :

Indident Medical Devices
3E/15, Jhandewalan Extn
New Delhi-110 055
Phone : 11-9810176673
Fax : 11-41543747
Email : drnidhisaluja@gmail.com
Website : www.indident.com